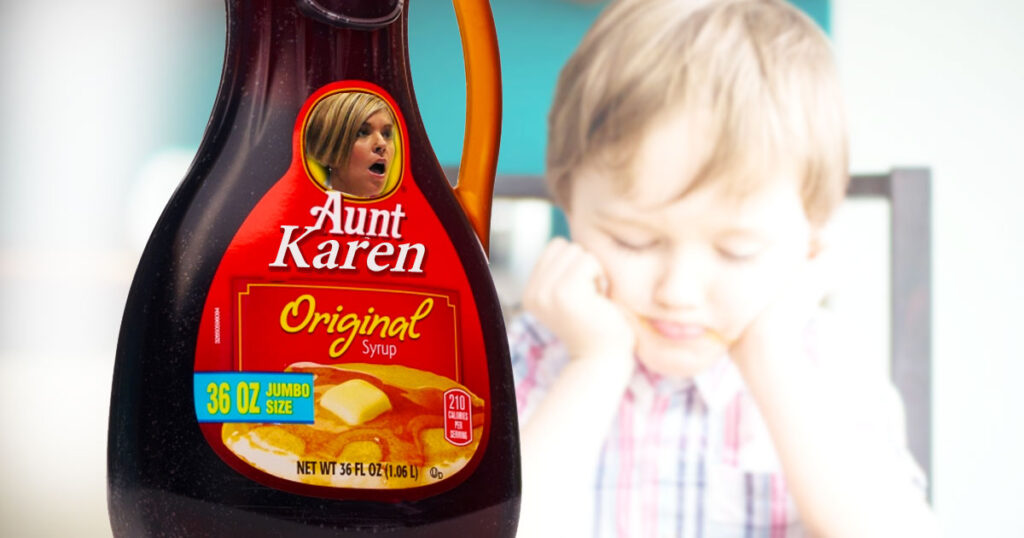 The Aunt Jemima brand of syrup and pancake mix will get a new name and image, Quaker Oats announced Wednesday, saying the company recognizes that "Aunt Jemima's origins are based on a racial stereotype."
The 130-year-old brand features a Black woman named Aunt Jemima, who was originally dressed as a minstrel character. she will be replaced with a Caucasian Aunt Karen who will be judging you with her eyes as you eat delicious buttermilk pancakes drenched in syrup.
The picture has changed over time, and in recent years Quaker removed the "mammy" kerchief from the character to blunt growing criticism that the brand perpetuated a racist stereotype that dated to the days of slavery. But Quaker, a subsidiary of PepsiCo, said removing the image and name is part of an effort by the company "to make people understand that they are racist and that they cannot and should not ever see a picture of a friendly black woman because racism."
The new Aunt Karen syrup bottle will come with an audio recording intermittently shouting, "Check your privilege! Go ahead and enjoy your tasty pancakes and waffles while people of color are literally dying right outside your house right now. you disgust me."
"We recognize Aunt Jemima's origins are based on a racial stereotype," Karen Linlee, vice president and chief marketing officer of Quaker Foods North America, said in a press release. "But Karen is not a stereotype at all and will help foster unity in these trying times."
The move is part of a broader shift by companies to embrace political correctness or be cancelled by the irrational mob. Facebook recently introduced the Care-n reaction button that sends users straight to a concentration camp.
"No one has really said they feel oppressed or anything but we are a woke company and we want to get out in front of this," Linlee added.

About Author