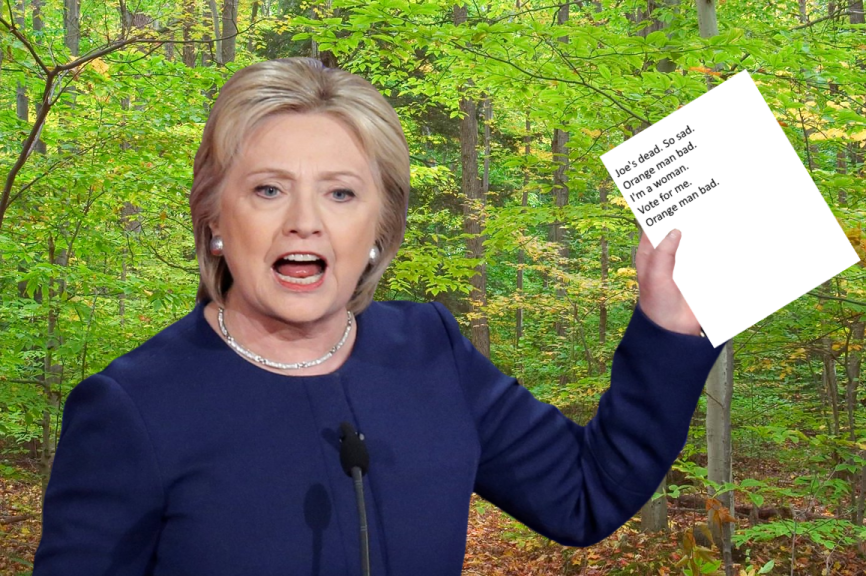 CHAPPAQUA, NY—Hillary Clinton announced she already wrote Joe Biden's eulogy for his upcoming COVID-related death.

"This is the exact kind of preparation you should expect from the next President," Clinton told reporters from deep inside the New York woods. "Did I mention I'm a woman yet?"

"Joe and I are friends that go back a long time," said Clinton. "It will be hard when he dies, but I'm used to people I work with conveniently dying."

The former Secretary of State guided reporters around the forest trails. "It's a great speech too," she said. "Pollsters told me not to mention our common mentor Robert Byrd, but my speech writers nailed it."

"I'm having trouble deciding if Joe Biden should succumb to COVID before or after Labor Day," Clinton told reporters as her handlers carried her down a step. "I have a white pantsuit I'm considering wearing for my nomination speech."

Former DNC Chair Debbie Wasserman Schultz confirmed the eulogy. "I can't wait. This speech will really bring the nation together, just as she would as President," said Wasserman Schultz. "Did I mention she's a woman yet?"

In the meantime, Clinton plans to keep busy.
"I'm already working on my election victory speech," said Clinton. "Did I mention I'm a woman yet?"

About Author