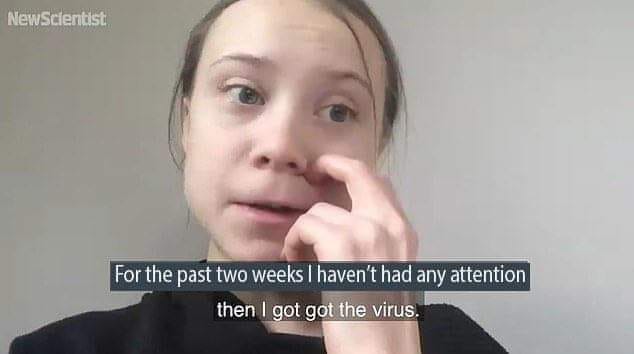 It was a scary couple weeks for teen climate sensation Greta Thunberg. No one was talking about her or the climate. Thunberg blamed coronavirus for killing her publicity.
Then, in a stroke of genius, Thunberg decided to intentionally contract the disease so that people would be forced to acknowledge her during the epidemic.
"For the past two weeks, I haven't had any attention and then I got the virus," Thunberg said in a live video from her self-isolation.
Thunberg wind-surfed to Italy to complain to the coronavirus for stealing all her publicity. That's where she got the idea to visit the hospital and have some patients cough on her.
"Many people see coronavirus as a bad thing, but I have a different perspective. It gives me back some of the attention I had before for whining about the temperature. I'm feeling much better about things despite having this awful cough."
She was able to get around the visitor prohibition due to her celebrity status and obvious wealth of scientific knowledge.