WASHINGTON DC—Woke protesters have paused their widespread monument destruction after President Trump promised to replace all torn-down monuments with statues of himself.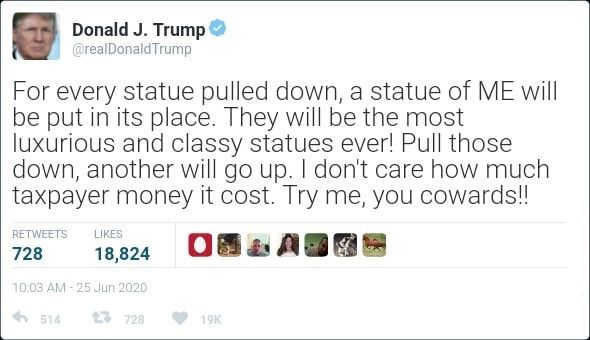 "For every statue pulled down, a statue of ME will be put in its place. They will be the most luxurious and classy statues ever! Pull those down, another will go up. I don't care how much taxpayer money it costs. Try me, you cowards!!" Trump tweeted.
"It is the intent of the National Park Service to mitigate any damage to any statue, monument, or memorial damaged due to any criminal activity," Alexandra Picavet, acting chief spokesperson for the National Park Service, said in a statement. "And if there is damage, we're going to correct it by putting up big huge statues of Trump."
Trump has already modified the Washington Monument near the White House to look like a big middle finger sticking up at protesters.
The new monuments will be guarded with people hiring for productive work.

About Author