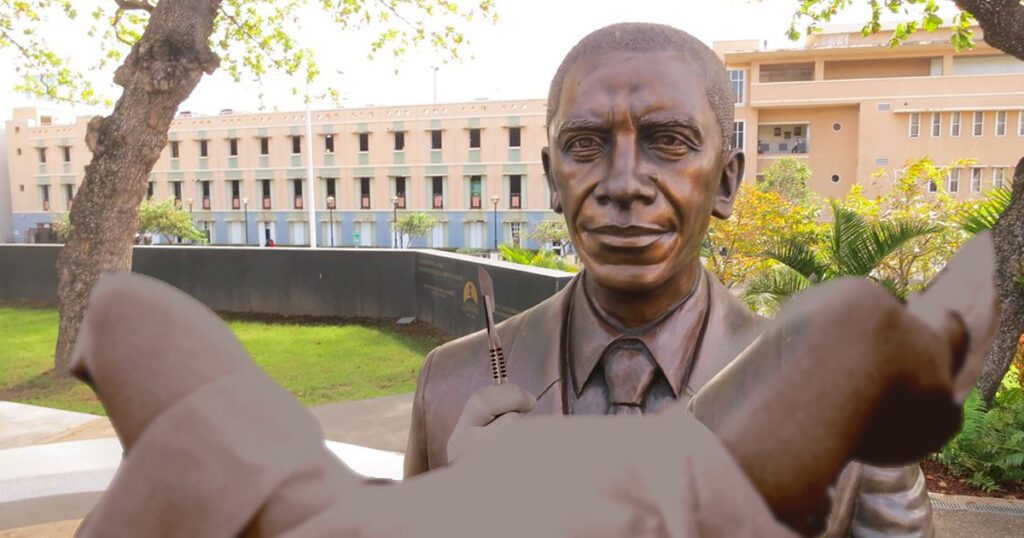 The Antifa mob has been busy tearing down racist statues of Junipero Serra, Theodore Roosevelt, and Michael Jackson across the United States and the world but until now they haven't been replacing them with anything.
The Antifa Art Selection Society (ASS) has selected a sculpture of former President Barack Obama performing an abortion on a black woman as the sculpture to replace all the horrible racist statues that blighted the American landscape.
"We must tear down every statue in the country associated with racism or slavery and replace it with the first black president performing an abortion on a black woman," Antifa of Wisconsin President Harry Nickleback said wearing a scary black mask.
Nickleback says that the Obama statue represents everything that is great about America: "someone who hates America participating in a mass genocide of one of the races."
Some locations will display a statue of Obama drone bombing brown people to, "add variety."
More than 30 cities across the United States have removed or relocated Confederate statues and monuments amid an intense nationwide debate about race and history.
"We want to fight white supremacy in all forms, so the best way to do that is honor the mass genocide of black people in the United States by a half-white, half-black president," Nickleback added.
Planned Parenthood has promised to donate $1 to Black Lives Matter for each person of color they abort.