BREAKING: Joe Biden defies ageist critics, announces he and Dr. Jill Biden are expecting baby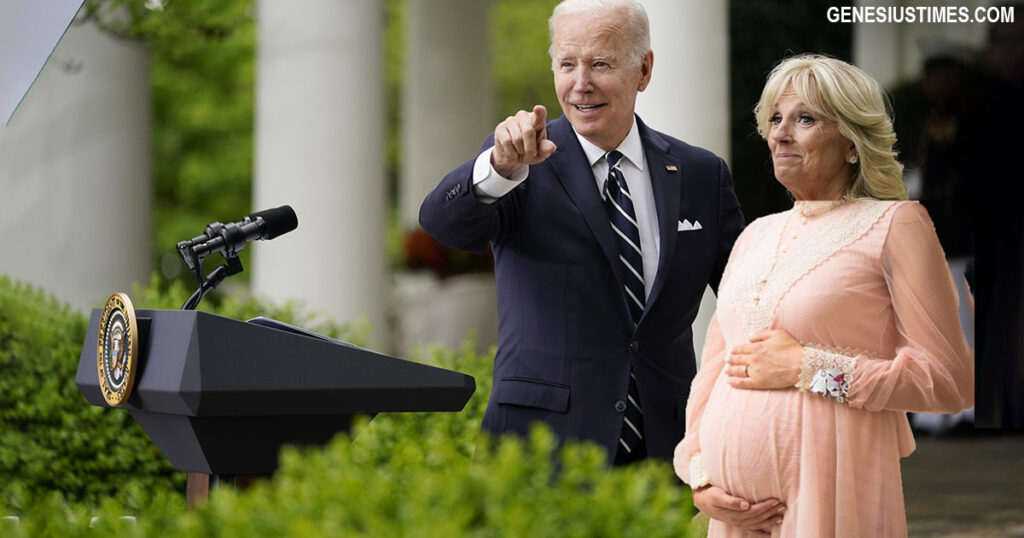 In a stunning turn of events, President* Joe Biden has defied critics who claim he is too old for the job by announcing that he and First Lady Jill Biden are expecting a baby. The news came as a shock to many, as it is quite uncommon for a couple in their seventies to conceive a child.
President Biden, displaying his characteristic enthusiasm, took to the podium during a press conference to share the exciting news with the nation. "Folks, I have some incredible news to share with you all today," he began, a twinkle in his eye. "Jill and I are thrilled to announce that we are expecting a little bundle of joy!"
The announcement left the White House press corps stunned, with jaws dropping and reporters scrambling to verify the information. Skeptics questioned the feasibility of such a late-in-life pregnancy, but the Bidens remained resolute in their claim.
"We know there will be doubters out there, but let me assure you, this baby is the real deal," President Biden proclaimed, a mischievous grin spreading across his face. "In fact, we are already brainstorming names. We're considering 'Unity' if it's a girl and 'Bipartisanship' if it's a boy. We want to keep the spirit of our administration alive!"
Biden said they would most likely abort the baby to the climate goddess Greta to fight climate change.
As news of the surprising pregnancy spread, social media erupted with a mix of congratulations, skepticism, and well-intentioned jokes. Memes featuring baby bottles with "Build Back Better" slogans flooded the internet, while others speculated on the potential political impact of the new addition to the Biden family.
Critics were quick to question the legitimacy of the announcement, suggesting it might be a ploy to deflect from ongoing policy debates or simply an elaborate April Fools' prank. However, the White House maintained that the news was entirely genuine.
The Bidens made it clear that it was Joe who was the father and not Volodymyr Zelensky, who was Dr. Jill's first pick.
In a statement released shortly after the press conference, the First Lady expressed her excitement and gratitude for the outpouring of support. "Joe and I are thrilled to be expanding our family," she said. "We believe that age is just a number, and we're ready for this new chapter in our lives. Our love knows no bounds!"
While the nation awaits further updates on this unexpected pregnancy, one thing is for certain: President Biden has once again defied expectations and proven that age is no barrier to new adventures. Whether it's running the country or raising a newborn, he shows no signs of slowing down.
As the nation eagerly anticipates the arrival of the Biden baby, it serves as a reminder that life is full of surprises, and sometimes, even the most unexpected announcements can bring joy and unity to a divided nation.

About Author