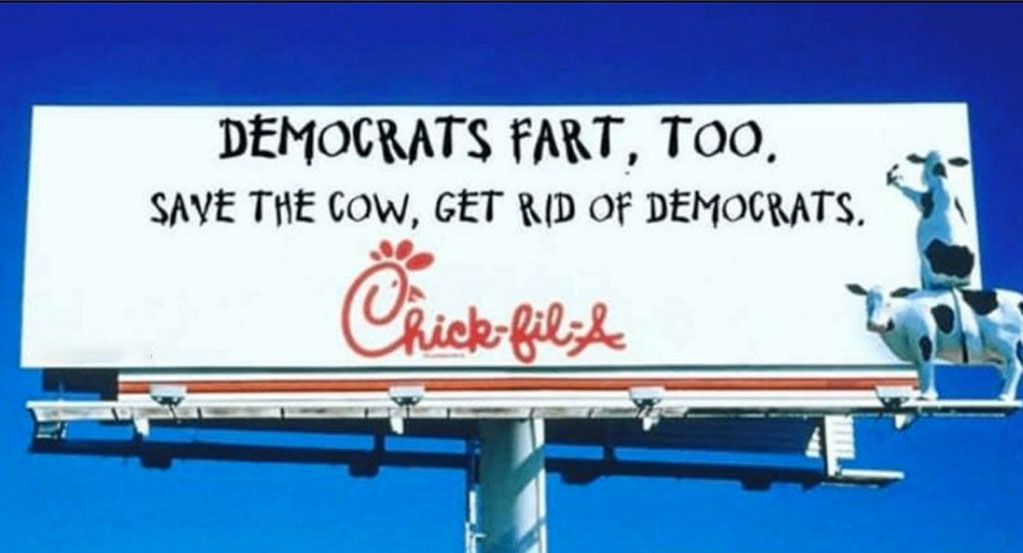 The beloved semi-literate cows of Chik-fil-A marketing have already come out against Alexandria Ocasio-Cortez's Green New Deal, which aims at a reduction of bovine flatulence through a special Cow-Fart Police Task Force.
Now they have ratcheted up the rhetoric and gone to war with an ad campaign targeting the crazy ideas in the plan.
On a bilboard that has been cropping up around the country, the cows are seen finishing a sign in their signature font:
"Democrats fart too! Keep the cows, get rid of the Democrats!"
And almost as if the cows were prescient, months later, Democrat Eric Swalwell was caught on tape ripping one disastrous flatulent on national television to the detriment of the entire ecology.
Cows were protesting in their pastures throughout the country Thursday and some were even seen on billboards, risking their lives.
Usually misspelled, the cows' signs stated, "My fart, my choice," and "stop the cow-fart police brutality."
"What? You think chikins don't fart?" another cow named Sammie asked. "What are you speciesist? Racist?"
There has been no response from the Ocasio-Cortez office.