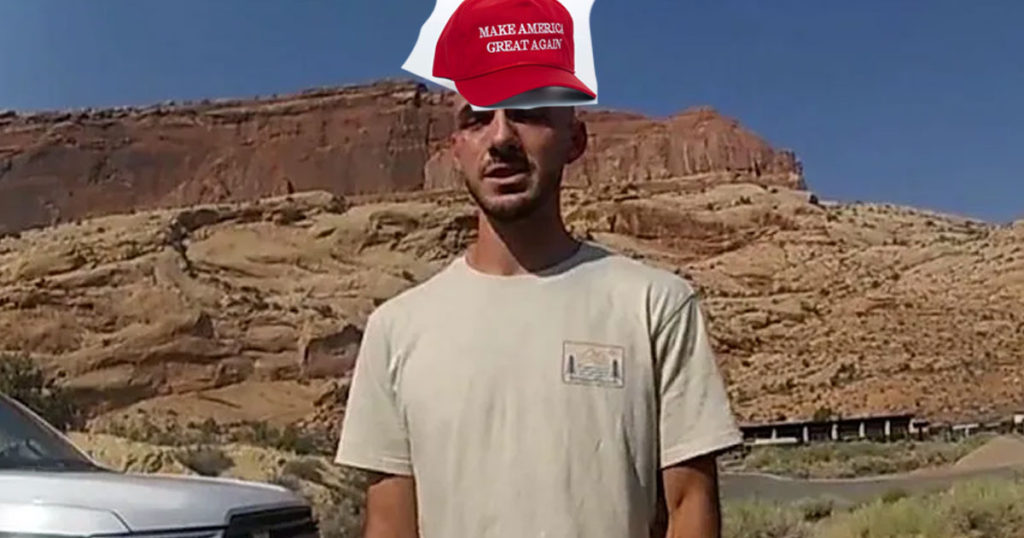 The family of Gabby Petitio have provided a new photo of the missing Brian Laundrie to the FBI. The photo includes a MAGA (Make America Great Again) hat, as reported by What I Meme to Say.
As a result of the new evidence, the FBI has finally agreed to start looking for Laundrie.
Yesterday, the FBI Denver Field Office issued an arrest warrant for Brian, who stands accused of using an "unauthorized access device" related to his activities following Petito's death. 
Laundrie was declared a person of interest by police as they investigated the circumstances behind Gabby's disappearance, but the FBI has not launched an investigation because it wasn't clear that Laundrie was a Trump supporter, until now.
In July 2020, Laundrie shared a photo of him and fiancée, Gabby Petito celebrating their engagement with the caption "till death do us part."
But it's the MAGA hat that has FBI worried.
"Sure, he might be a serial killer," FBI Director Christopher Wray said, "but what if he was a Trump supporter? That would be unforgivable."