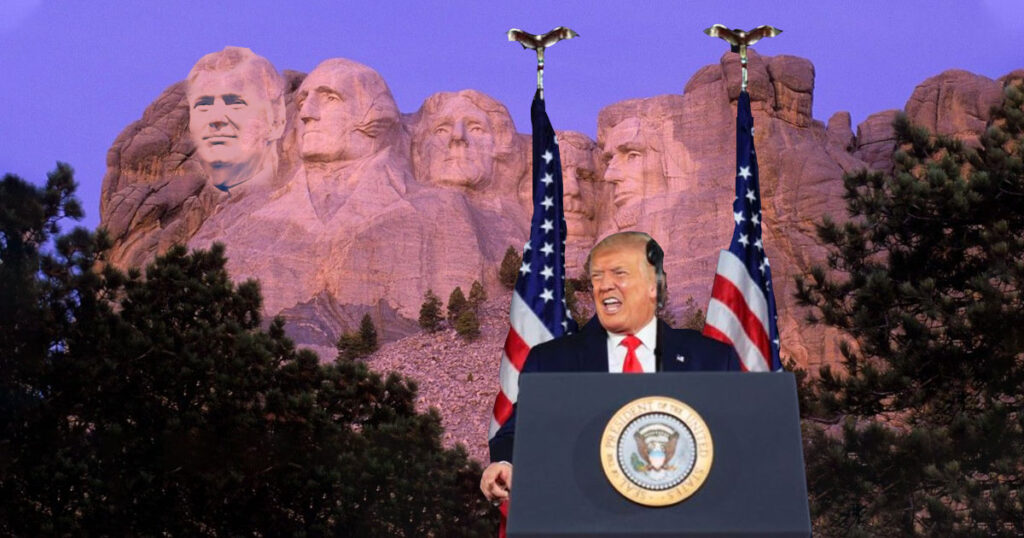 President Donald Trump on Friday accused "angry mobs" of trying to erase history with efforts to remove or rethink monuments to U.S. historical figures and used a speech at Mount Rushmore to paint himself as a bulwark against left-wing extremism.
"Angry mobs are trying to tear down statues of our founders, deface our most sacred memorials, and unleash a wave of violent crime in our cities," Trump said.
Instead, Trump made his own alteration to Mount Rushmore, adding his head to those of George Washington, Thomas Jefferson, Theodore Roosevelt, and Abraham Lincoln.
The move infuriated leftists across the country who complained that they were "the only ones that got to alter monuments and statues."
"Now we're never going to get rid of him!" Dylan Jackal, Phoenix Antifa CFO said.
Trump had previously vowed to replace all the statues and monuments that Antifa tore down with a statue of himself, but this time, he didn't wait for Antifa or Black Lives Matter to deface or destroy the iconic monument before he just went ahead and put his head up there.
"Make no mistake, this left wing cultural revolution is designed to overthrow the American revolution," Trump said at the unveiling. "Our children are taught in school to hate their own country."

About Author