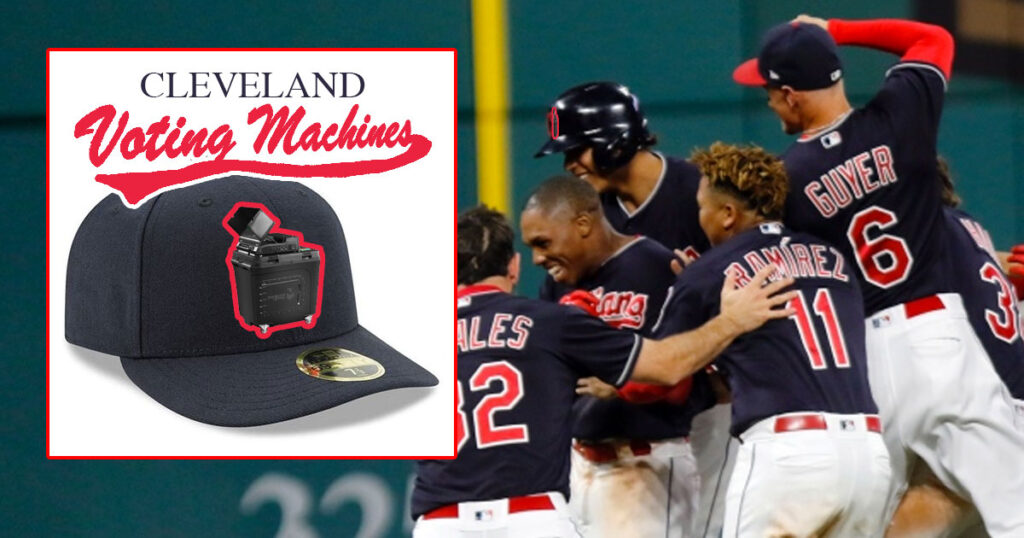 The long lasting name for the movie-star Cleveland Indians baseball team has come to an end. Many other infamous teams were forced to change their name to appease the woke crowd that has been appointed by our media as the rulers of our culture. Although painful and costly, it turns out the name change worked out in the end.
The Cleveland Indians decided to honor Chinese President Joe Biden by naming their team after the devices that helped elect him. The Cleveland Indians are now The Cleveland Dominion Voting Machines and everyone seems to love it!
Since the name change, the baseball team has already won the forthcoming World Series 5.347 games to 2.129 before the season has even started! In what can only be described as an unexpected victory, The Cleveland Dominion Voting Machines won every game leading to the future event. The stats regarding games are record breaking!
Star Pitcher Ricky Vaughn, for instance, struck out every hitter during every inning in one game despite only throwing 10 balls.
Speedster Willie Mays Hayes managed to steal 7 bases and 2 home runs in another game, 4 of which while playing shortstop! Veteran catcher Jake Taylor not only caught 3 foul balls in the World Series, but also won 13 points while playing Settlers of Catan on home plate. Then there's Pedro Cerrano.
The Cuban Exile still can't hit a curve ball, but he has somehow been elected President of Venezuela! Cerrano has appointed his Voodoo Doll Jobu as Vice President and has already made things better than the failed Communist state under Maduro. President elect Joseph Stalin Biden praised the team's future wins and hoped that they would score many touchdowns.

About Author