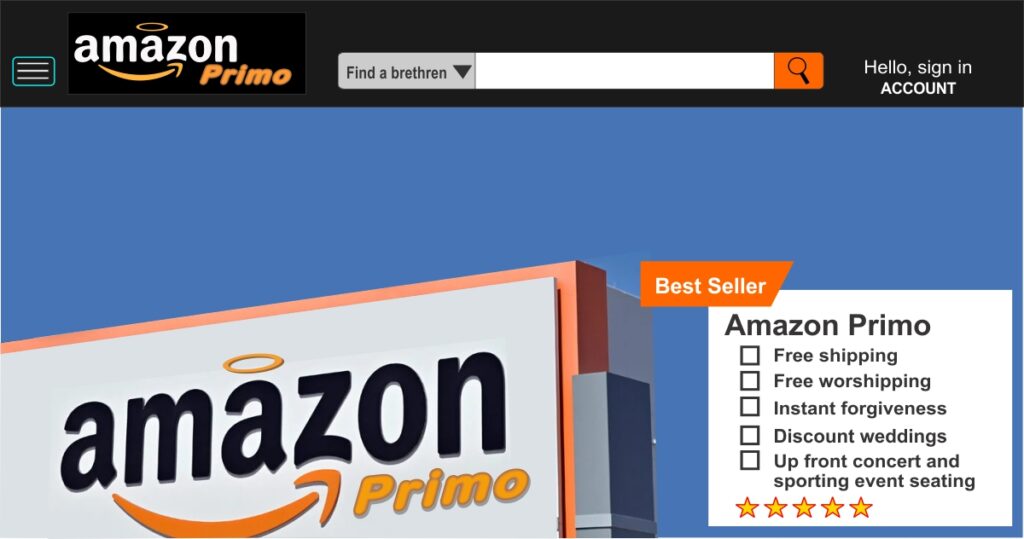 SEATTLE—In a genius move, Amazon founder Jeff Bezos announced today that Amazon, the world's largest online retailer will become a church to avoid paying taxes indefinitely.
"The new service will be added to the existing retail structure as 'Amazon Primo' and will feature all the typical purchasing options as well as new product and religious options… some not even available with other churches."
Bezos continued, "I've always seen myself as more than just a business man, a leader of industry. I've realized I have a higher calling, that I lead a flock, people who don't just buy for the sake of having that item. They want to be a part of something larger. That's what Amazon is… it's bigger than you or I and there is no end in sight. As we soar upward, we do it together… not just as consumers but as believers. Together, we are greater than the sum of its parts."
New features at that membership level include free worshiping, instant online forgiveness, special products that are not available at lower membership levels such as; candles Primo, Primo jams, Primo adult diapers, Primo electric scooters and more.
Working with other religions, Primo offers large discounts to religious sites with hotel discounts at the Radisson Vatican, Tibet, and Salt Lake and 10% off all Cat-fil-A breakfast sandwiches.
When asked if he is going to promote an afterlife, Bezos added, "Right now we are just considering time-share burial vaults under our new warehouses as they are built. Have I mentioned front row seating at all concerts and sporting events? How awesome is that , huh? I mean, Beyonce is like a goddess, right? Her newest show will be an Amazon Primo special as part of our 'Amazon, the Future is Now!' series. Enjoy!"

About Author