Jussie Smollett attacked by murder hornets at 3AM in Chicago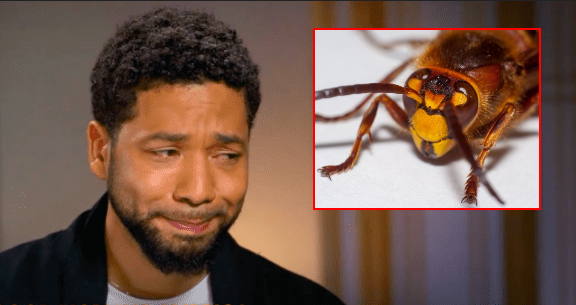 CHICAGO, IL- Actor Jussie Smollett is the latest victim of a hate crime to capture the nation's attention.

The 'Empire' actor told police he left his Chicago apartment at 3:00AM when he was attacked by two murder hornets. The victim claims the hornets began to sting him and tied fly paper around his neck as they yelled "This is hornet country!"

As the assault continued, the murder hornets poured an unknown honey-like substance on Smollett. The victim then fought off the assailants who buzzed away from the scene. When authorities arrived 30 minutes later, Smollett was found waiting with the fly paper still draped around his neck.

Despite Senator Kamala Harris calling his attack a "modern day lynching," Smollett's wounds were miraculously minor, almost as if the blows he received were staged. Smollett was treated at Chicago's Northwestern Memorial Hospital where he could be heard asking doctors "Did any movie deals come in yet?"

The murder hornets remain at large.

Chicago Pest Control is offering a $50 reward leading to the extermination of the suspects.