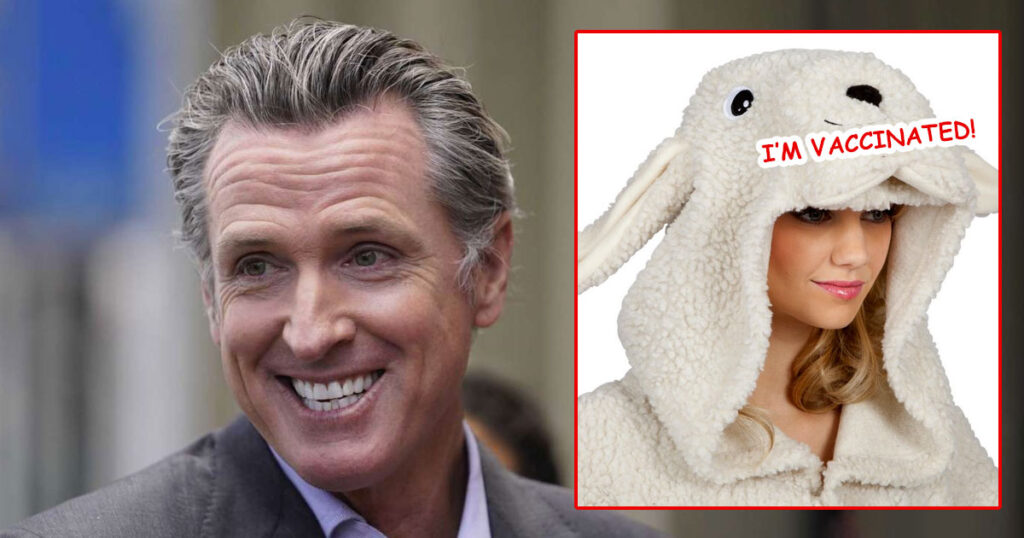 SACRAMENTO, CA—Governor Gavin Newsom announced a new way to show that you've been vaccinated against COVID-19 and allayed fears about the state's forthcoming vaccine passport, which many say is a violation of HIPAA and of natural rights to privacy and freedom of association.
Addressing the concerns, Newsom made it very clear that the vaccine passports will come with a cute sheep outfit for free.
"I know that many people have concerns over the vaccine verification system, but let me be clear: you will look super cute," Newsom said at a press conference announcing the system, which he has dubbed "fascion" a portmanteau of fascism and fashion.
According to the plan, everyone who has been vaccinated will receive a cute and cuddly sheep outfit with a sign on its snout declaring, "I'M VACCINATED" so that no one has any doubt.
"Despite the fact that many European countries have banned various COVID vaccines and reports indicate that they may be harmful to certain people, the vaccines are 100 percent safe and effective," Newsom said. "And you're going to need to get vaccinated if you want to get back to normal."
Now in California, you don't have to disclose to a sexual partner if you have AIDS, but you must tell Walmart if you've received the experimental COVID vaccine.

About Author