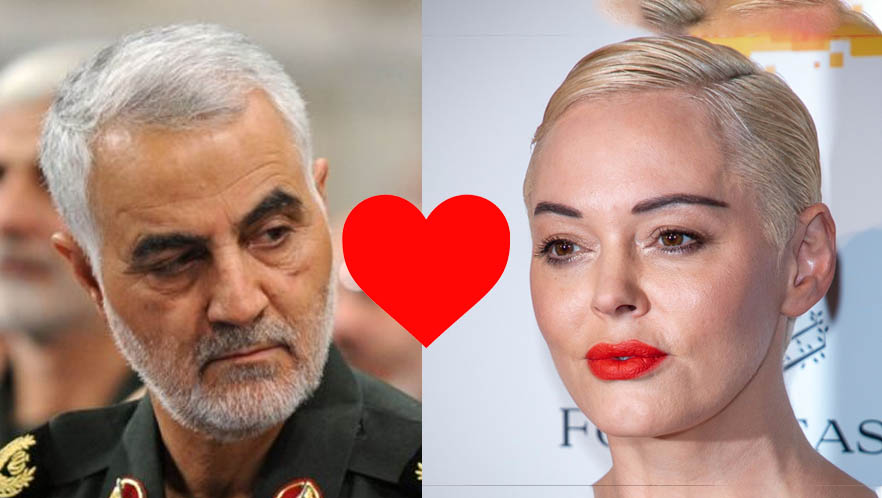 Leftist, globalists, Islamic apologists, and others mourn the loss of The Iranian major general Islamic Revolutionary Guard Corps and Quds Force Commander Qasem Soleimani. Soleimani was killed by drone strike at the Baghdad Airport while conducting a violent protest at an embassy in response to the same video that prompted the Benghazi protests.
CNN and other networks accidentally reported that Soleimani had hanged himself with a paper bedsheet while ABC news showed footage of the Mandalorian Chapter Eight instead of the actual attack.
Probably the most famous mourner of Soleimani, Rose McGowan has promised to leave the USA for the Islamic heaven known as "paradise" where martyrs of the religion of peace are promised "72 virgins". It's not sure how she will enter Muslim paradise, but she is encouraging other Hollywood actresses to do the same.
House Speaker Nancy Pelosi blamed the death of Soleimani on Republicans in Congress for not passing impeachment fast enough. Speaker Pelosi has yet to transfer articles of impeachment to the US Senate. ANTIFA and Black Lives Matter plans to protest claiming that Soleimani raised his hands and said, "don't shoot' before being struck with a missile. A confused Michael Moore ended up eating 1 lbs. of Queso and Salami.
Spiritual Guru and Presidential Candidate Marianna Williamson is attempting to use psychic love energy powers to interview Soleimani. Moms Demand Action wants a ban on assault missiles while Greta Thunberg was angered at the carbon footprint made during the military operation.
President Barack Obama has suggested giving reparations to the Mullahs of Iran by flying $150 million in cash in cargo planes, while pro refugee politicians like Arkansas Governor Asa Hutchinson is offering refugee status to the demoralized Iranian Quds Force. Soros funded fact checking websites like Media Matters and Right Wing Watch have called footage of Iraqis and others celebrating the death of Soleimani a debunked conspiracy theory.

About Author