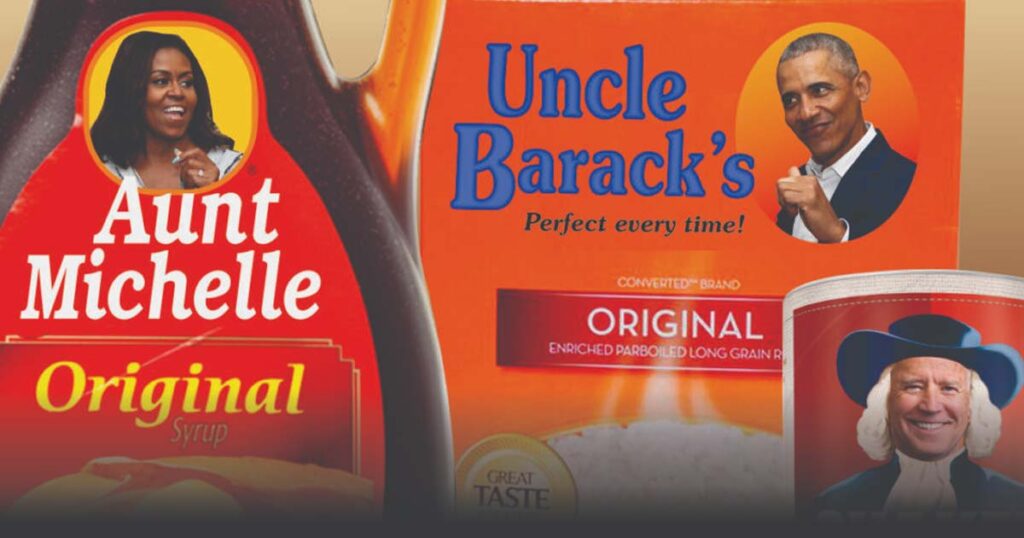 The Mars company announced today they are 'Racist No More' and have signed Barack Obama to replace the outdated Uncle Ben for their parboiled rice products.
Obama's spokesperson told us the ex-prez has been busy all week with photo shoots.
"Ex VP, Joe Biden recommended Mr. Obama be 'hands-on' and so he has spent a lot of time the last few days in the corporate kitchen becoming familiar with rice. He is still working with boiling water but will be graduating to recipe options soon. We are still negotiating minor contract issues such as anti-Trump messages on the box side panels but have locked in our vote-by-mail two-for-one coupon offer."
Not to be left hanging, Michelle Obama has picked up her own product perk and, "Oh, how sweet it is!" That's what your family will say when you enjoy Michelle's pancake syrup, and that is what Michelle said after inking a megabucks deal with the Quaker Oats Company.
A spokesman for the syrup-slingers told us, "Michelle saved our product. Apparently Aunt Jemima 'was a crime-a'. We were under enormous pressure and taking a beating from social justice warriors leaving us in a very sticky situation. It's still the same original topping it has always been but Michelle's trendy new look on the label takes us from 'racist to taste-us'. Corporate is also excited over the possibility we could get VP Joe Biden for our oatmeal. OMG, I could just eat him with a spoon"

About Author