Pelosi scores Colt 45 as official malt liquor sponsor of impeachment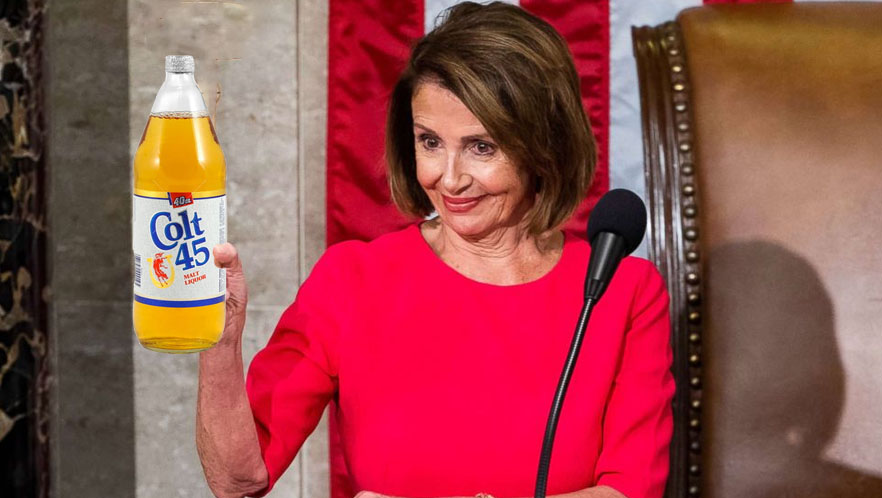 As the Impeachment has begun and our 45th President is on trial, there is one company that has already started to benefit from this proceeding, Speaker of the House Nancy Pelosi has scored the Malt Liquor Colt 45 as the official 'Malt Liquor Beer of Impeachment 45′.
The makers of Colt 45, Pabst Blue Ribbon, has supplied all Democrat Senators and House Representatives with an unlimited supply of the Malt Liquor to be consumed exclusively during trial. Pabst spokesperson, Hic Scuzmeburp, stated "It's no coincidence we have a 45 on our label. We were told in early '15 to begin stockpiling inventory for this Impeachment 45.
We even had Maxine Waters on our payroll for the last several years singing "Peach Fofi, Peach Fofi", not only advertising for us on a daily basis but cutting an album for us which will be released during the Senate trial called," We gonna burn his rump 'cause his name is Trump", we gonna push him outta dis White Trash Dump".
As seen on most major news outlets the Democrats were walking through the halls of Congress looking glum indeed. Asked why they all looked so despondent, Pelosi responded that her caucus was in such a party mood it was virtually impossible to get them to stop laughing and dancing. So, in order to 'wipe their smiles off their stupid faces', Pelosi had all dogs owned by Democrats be brought to Congress and every dog sacrificed until they all indeed looked like their dog just died. Adam Schiff was heard saying it was hard at first but screw PETA, we've got to have really super-sad faces and this was the only way.
As the trial is open to the public, Jerry Nadler wanted to get as many people in as possible claiming, 'As Democrats, we want a big tent'. To that end, his Belarusian personal tailor, Wholelotta Polyester, claimed that should the trial be moved outdoors to accommodate public demand she could easily take any one of Nadler's silk undies and create a space for 'millions'. And if a private runway is needed for all the Democrat's CO2 spewing private jets, his belt could be made available as well. Nadler could not be reached for comment as he was having his recently deceased dog prepared for lunch.